March 19, 2011
Peoples' Voice Cafe 
40 E.35th Street (between Madison & Park Aves) New York NY 10016 
http://www.peoplesvoicecafe.org
212-787-3903
$15/TDF/$10 PVC members • "More if you choose, less if you can't"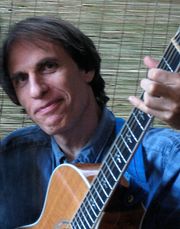 Bruce makes a triumphant return to the NYC concert stage tonight at the Peoples Voice Cafe! Expect him in fine fettle with a full set of his original songs – old chestnuts audiences dance to in the aisle and/or sing along with at top volume in foreign languages, and other tunes more rarely performed.  
The second set is all-Bruce, starting around 9pm. But be sure to catch the first set's performer, Sally Campbell.
Quaker singer-songwriter and longtime activist, Sally Campbell, sings her own songs accompanied by her autoharp. Her songs range from a lullaby for her mother, Rest Here in My Arms, to a friendly decluttering anthem, Beloved Belongings, to a rousing resistance song, I Don't Wanna! She may just reprise concert favorite, Hug a Friend, with her friends Adele Rolider & Bruce tonight.
Yummy snacks and drinks are available. And, best of all, a good time for all!
---