BRUCE'S BIZARRE BAZAAR
& the Miracle Mango Mini Mart Online Outlet
You are now entering Bruce Markow's Bizarre Bazaar and the Miracle Mango Mini Mart Online Outlet. Welcome!
Knock your socks off – and slip a new t-shirt on (while you savor Bruce's inspiring CDs and personally support his upcoming full length recording).
IMPORTANT NEWS ABOUT AVAILABILITY
1.  Buy downloads of Bruce's songs on this site, coming ASAP
2.  Buy physical CDs of Demolicious4 at all live performances
3.  Mango T-shirts and all CDs are currently out-of-stock onsite
The Mango Festival Official (Must Have) T-shirt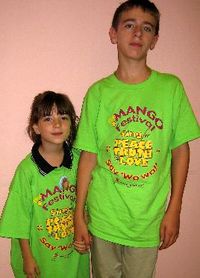 "SING for PEACE, TRUTH & LOVE" Click photo to enlarge

Be the envy of your universe with this hand screened, elegant, positive fashion statement – and samba through your day bathed in that juicy Mango Festival spirit (whether or not you've already felt it in person).

Only $18 USD + s/h. To own (or give a gift of) one or more of these snazzy shirts while supplies last, email or easily and securely use PayPal here and now. (All sizes currently out of stock.)
Mango, the Long-Awaited CD-Single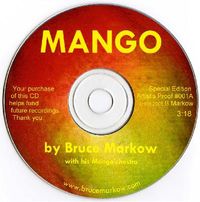 It rocks! It swings! It drips nectar. And it transports you aboard a train to the tropics and beyond with a movin' groovin' altered samba beat. With rollicking vocals in a romp on a unique, delicious lyrical premise, Mango satisfies.
Yes, it's the "artist's proof" studio version of The Mango Festival's audience-rousing centerpiece. This happenin' full band arrangement will have your puppies howling along with Bruce's lush and spunky guitar and some kickin' drums, tight percussion, sensual horns and more.
Try it. You'll like it!
"I just keep on hitting repeat and playing it over and over again. It's such a feel good song." (Rosalind Reis, Housatonic, MA)
People are eating up Mango.

Only $4 USD + s/h. You can easily order it now via encrypted and secure PayPal right here:
Demolicious4, Bruce's heralded four-song CD-EP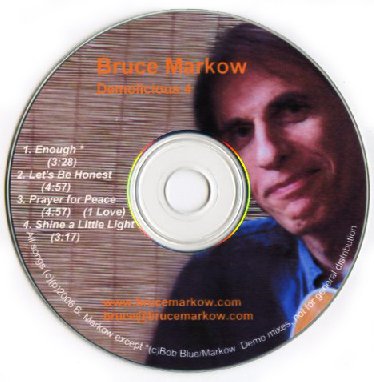 This engaging CD contains studio renditions of concert hits for a thrilling journey through multiple colors, moods and sounds. Arranged, recorded and mixed with moxie and polish... then lovingly sent to disk without excessively slick and unhygienic spit shine!

Oh! Such vocals, guitars, basses, dulcimers, mandolins, mandolas, keyboards, percussion! The ecstasy! The answer to your hunger is Demolicious4
"Played your CD over and over all the way home to PA. WOW! I loved every song. I laughed, cried, and bopped along the highway. Thanks so much!" – Annie Mascelli, State College, PA
 
"Bruce is the complete package: master of melody, lyrics, vocal and guitar chops to the max and energy to burn! Most importantly,... he is honest and sings from his soul... If you haven't bought his four-song cd, buy it a.s.a.p... I can't stop listening." – Melissa Holland, Beacon, NY
 
"I kept singing Shine a Little Light -- that song helped me heal my spirit and body and soul, to feel the good in the world coming through your music." – Cecilia Calderon, New York, NY
   1. Enough     2. Let's Be Honest     3. Prayer for Peace (1 Love)     4. Shine a Little Light
Taste two songs before you buy:
x
At a mere $8 USD + s/h, you can get your Demolicious4 on! It's available right here with convenient PayPal.
Your Help Requested and Needed
Yes, you. Your help. Bruce and his supporters encourage fans and friends to include a generous donation with (or without) your purchase(s) to help finance production of Bruce's full length CD, now very much in progress. Not obligatory, but we do need and appreciate fundraising assistance to help get the CD to you sooner, better, easier and truer.

We've already raised over USD $3,600 (in donations from $20 to $1000, most at $50 to $100), but we need at least two to three times that amount more to complete the project. Sad but true: No Funds = no CD; then again, Funding >> CD!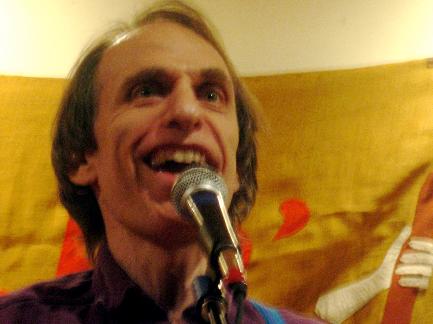 Please become a valued contributor at any level. Large donations may be tax deductible – Email to find out how. Or you can easily and securely send contributions now via PayPal.

Thank you in advance for helping make dreams come true and contributing towards a happier, more tuneful and more conscious planet... while enabling us all to revel in what Bruce will deliver: fun, soulful and uplifting music. We all win.
Shipping
We created this system to let shipping and handling be as simple and fair as possible:

For products shipped to a single address in the USA, a s+h charge of $2.50 for the first t-shirt [or, for a limited time, just $1.00 for the first CD] and $1.00 for each addtional item is automated on your PayPal shopping cart. (PayPal is easy to use, even if it's your first time.)

For our friends in Canada and Mexico you simply "purchase" an additional $1 USD in postage, once for your entire order, here:
For our friends in the rest of the world, you simply "purchase" an additional $4.50 USD in postage, once for your entire order, here:
To request expedited shipping, please email .

back to top
My mission:




Contribute great music

toward a world full of peace, truth & love