Big thank you to Tom Boyd and Oralee Wachter for hosting the Music Over Manhattan show artfully and generously on Saturday. Thanks to The Ukuladies for their set of great schtick and great music. Thanks to the audience of old and brand new friends for filling the joint to overflowing with enthusiasm, singalong power and good vibes.
I LOVE performing!!! Sabbatical has been like a racehorse tied to a post. All I can say is, New Yorkers and NYC commuters, please save the eve of Friday, March 13 in your calendar!
I enjoyed these early reviews (rave-views?) soon after the show:
• "You rocked, and then some!!"
• "I had to contain myself from jumping off my stool to dance it up to your music and beautiful voice – next time I won't!!!
• "You're my Magic Mango Man!!!"
• "I kept singing Shine a Little Light – that song helped me heal my spirit and body and soul, to feel the good in the world coming through your music."
• "Thank you for illuminating our existence."
"• BEST SHOW YET? Great show last night. You looked/sounded great... I like you best solo. Also, playing solo highlights your excellent musical skills more."
• "Outstanding"
• "Wow!! KaBoom!"
Stand by for some photos and videos expected from the show.
–––
TO ALL WHO CAN TOUCH AND BE TOUCHED even via our virtual link (however much our physical paths cross)... Thank you for continuing to be an inspiration and a motivation to be my best and as awake as possible.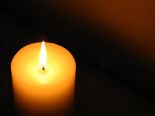 In this time when many holiday traditions celebrate the literal and figurative light found in the looming darkness,
I wish you all that you wish for yourself in your heart of hearts... or even better.
May you enjoy the wonder and mystery within the unknown of the darkness and the healing, sustaining, enlightening power & beauty of the light.
Yours in illuminated succulence,
Bruce
p.s. Whatever your spiritual/religious beliefs, all or most of this video link may remind you of who you are when you forget. Enjoy:
You Are The Light