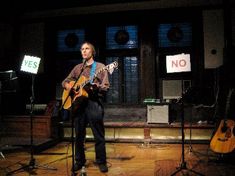 Thanks to everyone who arrived at the Good Coffeehouse in Brooklyn last night for my solo "Yes-No Show", wherever your trip originated. I know some of you trekked in from remote corners.
I enjoyed the evening, most especially the unabashedly enthusiastic level of singing on the choruses by attendees. For those of you who are not performing singer/songwriters or have not yet been graced with such a gracious audience as mine last night: Can you imagine how good it feels to pause in the singing of a chorus (or to be free to harmonize or improvise on the melody) when your audience carries it, full voice, like an ocean of sound? And to have the energy you give reflected back by a roomful of people fully enjoying themselves?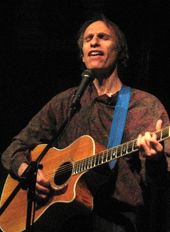 Ahhh... Stage Heaven. (Insert the sound of my heart melting here.) [Note to self: Must make an mp3 of that.] Thanks also to Bev Grant and Ben Silver for sitting in on
Let's Be Honest, Prayer for Peace
and
Mango
; to Justin Stallard for doing a bonanza on the boards; to (friend and my occasional percussionist) Robin Burdulis for MC'ing so generously; to the volunteer staffs of the Good Coffeehouse and Park Slope Food Coop; and to Jean Rohe and her excellent band for an inspiring second set. I'd love to see y'all at the next one.
---
back to headlines