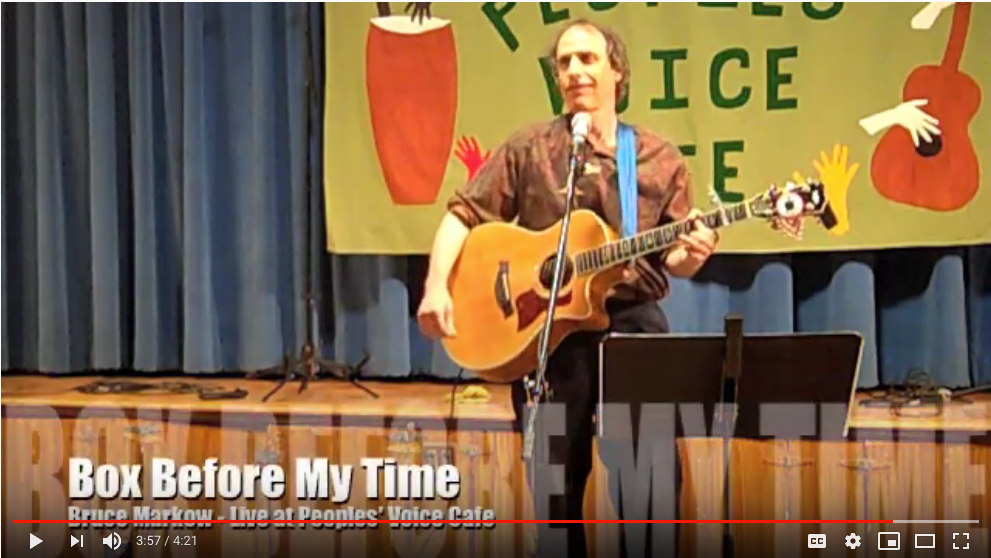 Hello friends and music lovers. Would you help make a big difference to me at this time? It is simply to "Subscribe" to my new YouTube music channel (and "Like" my first music video of my live song there, Box Before My Time). Here is the very specific reason for your help reaching the goal to have 100 "Subscibe"s by Friday, November 1:
My upcoming November 9 concert – the first of my own music after over eight challenging years – is serving as impetus and momentum to re-engage in, and realize, a key life vision: to occupy the very alive place music owns in my world… and the desire to share its fruits.
The current YouTube link is totally unmemorable gibberish: https://www.youtube.com/channel/UCwCiCv4nrIIaekAPYpaR_4w . Significantly, YT policy allows the channel owner to custom name their own URL ("...youtube...brucemarkowmusic") upon reaching 100 "Subscribes" on  the brucemarkowmusic channel. This, of course, enables much more connection, ease and clarity.
If you like anything at all about the first video [or maybe even don't dislike it :-) ], would you please take a moment to give it a "Like" on its page? And, importantly, Subscribe...and be notified of more to come. I promise that I will upload a second, often requested, song of a very different genre as we meet the goal of 100 "Subscribe"s by Nov 1. OK?
Again, for now that's https://www.youtube.com/channel/UCwCiCv4nrIIaekAPYpaR_4w
I welcome your comments there too, of course. Thank you!