SATURDAY, DECEMBER 20 • Music starts at 8:00pm
MUSIC OVER MANHATTAN House Concerts
251 West 19th St., #7C (between 7 & 8 Aves.)
New York City NY 10011
Seating is limited. RSVP ASAP: tomora0303@earthlink.net
$15 covers music, refreshments & fun!
Email Tom Boyd now at tomora0303@earthlink.net to reserve your place for a celebratory, intimate evening tongue-in-cheekily called "Holidays With Strings" in the best possible setting in Manhattan: a comfortable living room with an amazing view!
The current plan: Bruce leads off with a 30-ish minute first set and finishes with a 20-ish minute final set; two sets in between by the fabulous Ukuladies (and maybe some combined mischief afterwards). Bruce has new songs to share with you, including one composed for this event!
Tom Boyd, Web radio host – and this evening's host, says [lightly edited]:
Music Over Manhattan Proudly Presents... "Holidays With Strings: Bruce Markow & The Ukuladies" Music • Refreshments • Schmaltz • Big Fun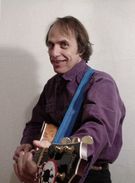 BRUCE MARKOW writes memorable melodies, graces them with powerful personal lyrics, and delivers music that is "hot... amazingly tasty" (Vance Gilbert)... "carefully crafted true-life songs performed with heart and soul" (James Reams, Good Coffeehouse, Brooklyn)... "literate, thought-provoking, witty and wise" (Chris Lang). Bruce plays almost everything that has strings or keys, and incorporates contemporary and traditional folk, 60's and 70's rock and pop, r&b, bluegrass, jazz, Afro-Brazilia, gypsy swing, J.S. Bach and more!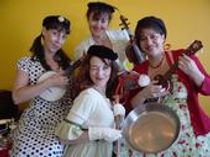 You will not see or hear another act quite like THE UKULADIES. Twin sisters, an aunt and a cousin from Winnipeg, the Ladies' shows include (but are never limited to) cheap champagne, bacon, three kinds of uke, fiddle, saw, flute, glockenspiel, kazoo, balloon animals, tight harmonies, tap dancing, Hawaiian hits, Ruth Wallace medleys, George Formby tunes and originals. Old-timey and sharply contemporary. Zany and poignant. Audiences say, "You guys were freakin' hilarious... That was some of the most fun I've had at a concert."
Seating is limited. For RSVP and directions, email: tomora0303@earthlink.net
---