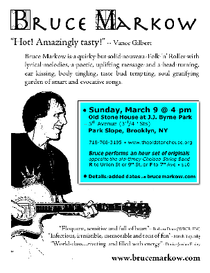 ← Here's a flier to click for Bruce's show at the Old Stone House.

Dear friends, 

I invite you to what may be my last big (or any) show in the New York City area for quite a while, and it should be a doosie! 

New songs are rolling out of the chute lately and I'm hot to bring you a sampling of them as well the time-tested repertoire, some of which is getting nice notice, in this hour long set. We'll be in a beautiful, intimate and historic stone building on the site of a Revolutionary War battle. (The colonists got routed, but held off the British long enough to help tens of thousands of their comrades escape to New Jersey.) 
Also performing their own set, for the same entry, is the lively old-timey Appalachian music group, the Chelsea String Band. I'm probably on first, but not definitely, so come early and plan to stay for the whole, great show. 
Please remember that Daylight Savings Time begins 2 a.m. that morning. We can spring forward together. 
If you had any doubts... please know I would be thrilled to see you! 
Love and succulence, 
Bruce 
- 
Sunday, March 9, 2008 4 p.m. (spring forward) 
BRUCE MARKOW & The Chelsea String Band 
OLD STONE HOUSE in J.J.Byrne Park 
5th Avenue between 3rd and 4th Streets 
Park Slope, Brooklyn, NY 
https://theoldstonehouse.org/ 
718-768-3195 
$10 for both acts

Easily reached by car, bus or subway R train to Union St. or to 9th St. at 4th Ave. 
This show is the first of the roughly monthly Zeemeuwsic III series curated by cellist, Martha Siegel 
---