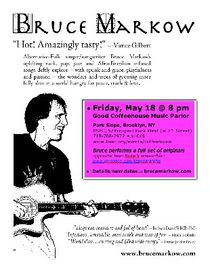 Here's a flier to click for Bruce's show at The Good Coffeehouse Music Parlor.
Bruce performs one full length set
of his originals at this warm and cozy venue in a double bill with
Jean Rohe
's ensemble playing folk, jazz & traditional latino songs. Expect a few surprises from Bruce. He'll likely do parts of
"The Yes-No Show."
Easy access
by car, train or bus. Near Grand Army Plaza & 2, 3, B, Q, F trains. Come on out for this great chance to get a full
"dose of charisma and positive energy!"
(so exclaims Kathy Moran, CT & NY concert promoter) and see for yourself what inspired renowned singer-songwriter
Vance Gilbert
to rave of Bruce's music
"Hot! Amazingly tasty!"
Some details
: at BSEC,
53 Prospect Park West
(between 1st & 2nd Sts)
(Park Slope) Brooklyn
NY 11215. Info: (718) 768-2972. Price: $10/$6 kids.
---
back to headlines