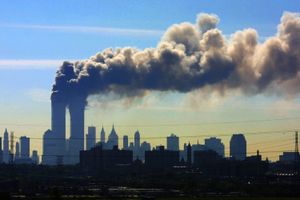 TIME/DATE: Friday, September 11th, 2009, 5 PM - 7:45 PM
LOCATION: Tobacco Warehouse, Empire Fulton Ferry State Park
IN CASE OF RAIN: Powerhouse Arena, 37 Main St., Brooklyn NY
ADMISSION: free

Brooklyn Arts Council chose two of Bruce's songs to be performed at a musical memorial to 9/11. Bruce will perform Let's Be Honest solo at around 6:30.
A full band version of Let's Be Honest appears on Bruce's CD, Demolicious4. Buy it here at Bruce's Bizarre Bazaar. Read the lyrics (minus the rap section, which you'll need to catch live or on the CD!).
Around 6:40 Bev Grant will sing Truth That's Real, which she and Bruce co-wrote.
"BAC Folk Arts presents its annual September 11th Memorial project, which this year features performances of [about 20] original songs about the events of September 11th and its aftermath. A selection of songs submitted through our open call will be performed live for the public on the anniversary from 5 - 7:30 PM in Empire Fulton Ferry State Park in DUMBO, Brooklyn. Bring a blanket or chair(s), light fare, and spend the early evening with us in the park."
DIRECTIONS: A/C to High St., F to York St., or 2/3 to Clark St. The entrance to Empire Fulton Ferry Sate Park is at the end of Main St., take a left onto the park path. The event takes place on the grassy area across from the Tobacco Warehouse, facing the water. Recordings of both songs will be permanently archived by BAC.
---