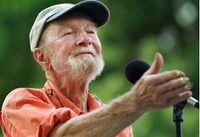 I'm still smiling about Pete Seeger's 90th Birthday tribute concert at Madison Square Garden and how the buzz/joy factor lingers, even expands, days later. That experience reminded me - though it doesn't take much reminding - that just our living in a world that contains Pete Seeger is a deep blessing. (And then, of course, there were Bruce Springsteen and all the other great artists on Sunday, who were beautifully present and inspiring, as well.)
While newspapers dutifully captured the who-what-when-where, Democracy Now caught some of the grit and sizzle with videos and the full text of Springsteen's warm, articulate and insightful words from the stage.
My friend and fellow singer-songwriter, Bob Barlow, may have described the essence best in his letter to the editor: "I was there, and I'd like to report what the AP did not – that the spirit at Madison Square Garden was truly magical – that an ineffable oneness pervaded the huge arena – and that this was one of the most life-affirming, peace-promoting and activism-inspiring experiences I've had in my 52 years on the planet."
Some of Pete's experiments, such as his early popular songs, his PBS tv program, Rainbow Race, and the time he sang "Waist Deep in the Big Muddy" mid-Viet Nam war era on The Smothers Brothers Show – sponsors aghast – served as formative, childhood template memories for me, though I didn't realize it at the time.
As an adult, my own direct personal connection with Pete has been a surprising gift that keeps on giving. Recording with him for his "Pete" CD for many consecutive days while he tirelessly waxed on (and on) between songs with inspiring stories and lessons from his wild, creative and empowered life; performing together onstage at various times; song-swapping; and learning newly birthed songs and rounds direct from the source have been instances of "amazing grace" beyond what I could have once imagined.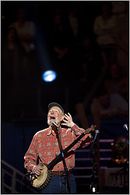 Please don't let enthusiasm and appreciation about Pete and his example obscure what I believe is one of his main maxims: He insists he's just a regular guy, like you and me, and there is every reason and plenty of opportunity for each of us to unfold our own unique gifts, as unfettered as he does, to help co-create a more free, natural, harmonious and heart-filled world.
Happy Birthday, Pete! Thanks and many more to you! Well may the world go! Bruce
---