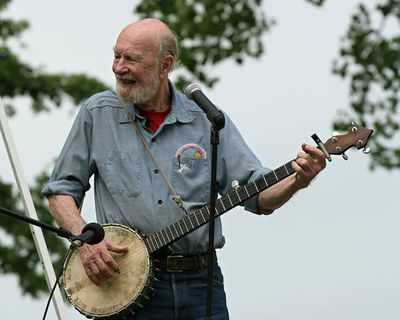 I don't know about you, but it hit me like a ton of bricks getting the news that Pete Seeger is no longer with us. He went out gracefully and I've since been actively celebrating 94 years of a life well lived. On the other hand, it feels strange and painful at times to talk about Pete's life in the past tense.
But in many ways Pete is very much still with us. He has changed the face of American folk, pop and rock music. He has lived a model for conscience and consciousness for commercial and non-commercial music and the rest of our culture. He helped clean up New York's Hudson River and provided some well-borrowed models for other environmental work. He has gone into many classrooms to catalyze future generations of singers, community builders and purveyors of truth. And, happily for a man who never sought his own glory and felt that his work wasn't about him, he has sparked many of his admirable qualities in countless singers and songwriters who are active today.
Such was the case tonight in a celebration of Pete and his late wife Toshi at Judson Church. Pete's influence was tangible – and alive – in the scores of people who sang and talked about their inspirations derived from Pete. Some had had a more direct contact than I've been happy to have had (see the entry for May 8, 2009), some only second hand. But all had been touched in positive ways that will carry over.
In my connections with Pete, I'd had one glaring incomplete. Not long after 9/11, I'd been sharing a round robin song circle with him, in which I sang my song "Let's Be Honest" (now on my CD-EP Demolicious4), a musical rendition of my experience on a soap box in the post-tragedy healing space that spontaneously arose in NYC's Union Square. As a complex funk-rap-reggae piece – my one and only – it went from a version my band at the time could barely pull off to a voice and solo guitar version, implying all the band parts, that, at the time, I could just about deliver. Pete enthusiastically asked me to send him the song. I had nothing to send at the time and, being at a perfectionistic stage in my musical expansion, it took awhile to get anything completed that I found presentable. Of course, that misses the point and, to make a long story short, though it eventually became a featured part of my solo set and a full band-arranged extravaganza on my CD, I never sent it. So there's some musical history that never happened. Or, it happened like that.
At the Judson event, in singing "Let's Be Honest" – in all its glorious imperfection this time, having not performed it for years – I felt I was finally delivering to Pete... and to all the Peteness that progresses out into the world and the future via the audience of singers, activists, music lovers and small, frolicking children. Without a doubt, a fulfilling, heart-warming and hopeful experience, and the best consolation available.