Once again, I had more fun than a pig in slop doing The Mango Festival yesterday.(See also Feb 1, '06 report.) And if their whoops, hollers, hearty singalongs on choruses (plus, as some of you know, that section in the song "Mango"), standing ovation and enthusiastc comments were any signs, so did the audience of locals and pilgrims from faraway places.

It's clear things are clicking when the crowd takes over my vocal line on the very first song of the night, "Treasures," during the acapella part. What a gift to just stand back and receive your pleasure. Thank you, guys! I love my audiences.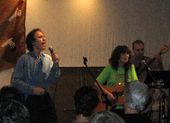 Yes, and big thanks to my terrific band (Barry, Ben, Bev & Robin), the Good Coffeehouse staff, Justin Stallard, who nimbly handled the board and all of you who attended or got involved one way or another.
Wanna take The Mango Festival home with you? Here are two ways to begin: 1) Help arrange for a show at a venue near you.(Just email me.) 2) Go directly to the fledgling store (up any moment now) [now open for biz - ed.], where some of the five-senses Festival merchandise is available to you directly, starting with the cool and coveted Festival t-shirts and the CD single "Mango".
Meanwhile, hoping all is harmonious in your world. Stay juicy and succulent...
Bruce
 
---