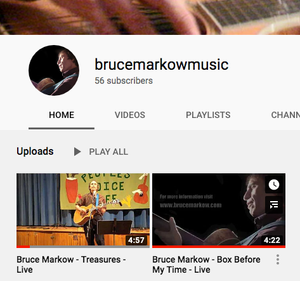 New brucemarkowmusic Channel at YouTube!
I am thrilled to invite you to the debut of my YouTube music channel, brucemarkowmusic! Come visit, and enjoy my first ever official video, "Box Before My Time" - Live.
How odd these days to be a longtime performing and recording singer/songwriter/multi-instrumentalist with nearly no videos online. But that is now over! Witness for yourself...
Please enjoy. Then add the coveted likes, comments, shares and subscribing that make a video channel a living, breathing entity. Thanks in advance for this.
If there is an enthusiastic response, I promise to add another new video (of a different genre from "Box") before my re-debut concert on Saturday eve, Nov 9 at Peoples' Voice Cafe in NYC. (Y'all come!)
Happy watching and listening!