"Eloquent, sensitive and full of heart" – Barbara Dean (WBCR-LP 97.7 FM)
"Infectious, irresistible, memorable and tons of fun" – Mitch Teplitsky (Filmmaker)
---
Welcome to headquarters for everything related to the music of singer-songwriter-multi•instrumentalist Bruce Markow.
Maybe you can't quite see, but that's me, Bruce, in the little chamber just behind this screen – yes, right there! – happily toiling over a hot guitar, keyboard and various other musical axes, writing, recording and rehearsing Folk'n'Roll songs freshly ladled out of the Singer-Songwriter Mystery Muse Stew Pot. You can discover and enjoy that music in all its glory onstage and soon on a full-length CD, now in progress.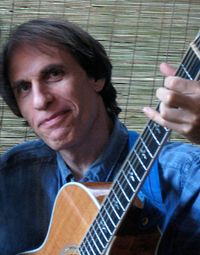 Words & Music
What you would hear (and can right now on the Music Page or by buying current CDs) is influenced by traditional and contemporary folk and richened with flavors of '60s & '70s rock/pop/r&b, bluegrass, jazz, Afro-Brazilia, gypsy swing, J.S. Bach and other ingredients that have fed my ear and soul, and help make the music harmonically, rhythmically and experientially alive and original.
"Literate, thought-provoking, witty and wise" lyrics, lauded as "poetry in motion," garnish the soundscape like a potion intended to tickle your core with inspiration and spark a succulently good time.
Those mischievous Muses lean on me to open my inner eyes and create songs and lyrics out of a lush array of subjects. Like peace on a planet that's stumbling along... embracing golden opportunities to get happy by getting real... daubing colors on the artwork of our lives and their unique missions... loopy frolics with tropical fruit... plus new twists on love, longing, hope, change and the other usual suspects. Double-plus, you'll even have fun learning a rare language, in song, at a typical concert.
My sincere wish is that you experience at least one gift, if not many more, that's especially juicy for you, from my body of live and recorded songs.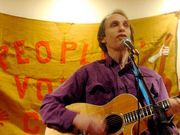 I'm here to create "songs that renew the belief that love is ultimately the answer" (as one review put it) and "amazingly tasty!," "almost too hummable" musical experiences (according to two other sources) that range from tender to inspiring to rousing – and move hearts, minds & bodies along their optimal arc.
Please join me on the upcoming adventures. There'll be some cool changes along the way.
Remember: New show listings keep coming in. There are two solo mini-CDs in the hopper now and a forthcoming full-length CD basting in the oven for release ASAP. (Please keep envisioning the completed CD, and contact me if you would help fund its gestation and birth.)
I hope all is harmonious for you. Stay juicy and succulent,

---
"An amazing stage presence... songs that are so much fun!!" – J. Skurnik (Filmmaker)
"A dose of charisma and positive energy!" – Kathy Moran (Concert promoter)
---
Contact!
It's easy: Explore this Web site. Join the Email List. Come to Live Performances. Say hello at a show. Share your comments on the News/Blog. Send an email to bruce(at)brucemarkow(dot)com. Promote a venue show or your very own House Concert. Join or start a local Street Team to spread the word. Donate, help Fundraise and/or Volunteer skills and resources towards successful completion of the full-length CD in progress. Buy CDs, t-shirts and Mango Festival merchandise – some available onsite at the Bazaar, the rest in concert.
For bookers, press, industry, radio, venues and label people, another resource is the EPK™ (Electronic Press Kit) at Sonic Bids. And you can download a high resolution 300 dpi 4x6 image (as seen above, right) on this homepage by right-clicking, or by left-clicking and dragging, one of the following links: Color, B&W, or as an option for the left side of your page or screen, Flipped Image or Flipped B&W. Or request hi-res versions of images from the Photo gallery. And of course you are always welcome to email bruce(at)brucemarkow(dot)com.
---
Please Note: All CDs & T-shirts are currently out-of-stock at Bruce's Bizarre Bazaar
Make every day Mango Festivalicious!
Find out how at Bruce's Bizarre Bazaar
---
Bruce Live
Locate upcoming concerts to catch the good times rollin' in real time by clicking to the Calendar. Please be sure to say hello at the show.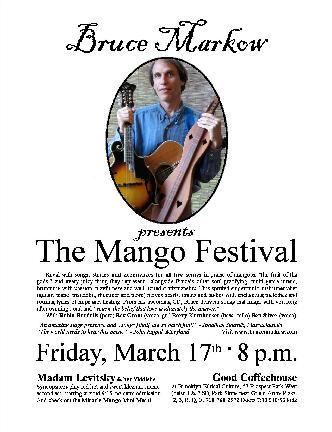 The Mango Festival is Bruce's unique, nearly indescribable, special event – an inspiring, thematic, multi-sensory concert/pageant experience...
To help you imagine a bit of what you might expect, click to this News entry. For a larger March 17, '06 Mango Festival flier, click on the Mini-flier at right.
Bruce, of course, offers you non-Mango-centric concerts, too, including other themed shows.
He invites you to enjoy and support his and others' live music and indie CDs. You might even find it satisfying to recommend Bruce to a promoter or sponsor a venue or house concert, yourself. If so, just send an email. Thanks in advance from Bruce, his team and current and future local fans.
See you at the show
---
"Hot! Amazingly tasty!" – Vance Gilbert (Renowned singer-songwriter)
"The world needs to hear this music." – John Rajpal (Teacher)
More quotes from fans, peers, press and promoters