Happy autumn!
The night breeze grows cooler (except for on those balmy Indian summer days), the earth more still... and I've been a fast movin', busy performin' singer-songwriter over the past few weeks, with multiple gigasms and oodles of studio work. So much for nature's natural flow slowing down this time of year. The pace has kept me doing things instead of writing about them.
Thus, this belated flurry of news items. I'm happy to say all recent gig highlights were plugs for peace, something, as John Lennon once said, we're needing to give a chance, right?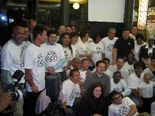 Got up at the crack of dawn on Sept. 11, the sixth anniversary of, well, "The" Sept. 11, to sing, for the third year running, for ROC-NY (Restaurant Opportunities Center of New York), whose core members are surviving employees of Windows of the World, once atop the WTC. Performing with Bev Grant at ROC's successful, new cooperative worker-owned restaurant, Colors (417 Lafayette St, btwn Astor Pl & 4th St, NYC), as opposed to past gatherings outdoors at a downtown pier, I was touched to partake in a poignant ceremony to both honor their beloved 73 missing as well as take a festive, inspiring look to the future.


Afterward, guitar in tow, I bee-lined to Chelsea Market to join a bunch of my songwriting buddies singing all day as part of "September Concert", a citywide, and now international, series of free events reaffirming a hope for peace. Pat Wictor, Tom Ryan, Glen Roethel, Teri Scheinzeit, John Redgate, Ina May Wool, Ritt Henn, Denise Jordan Finley, Tom Boyd, Fred Arcoleo, Matt Broady and I successfully slowed some of the shoppers whizzing by (Is this W's visionary plan to "shop for peace" in action?) -- and we singers made a boisterous, fully engaged audience for each other.

No-stone-unturned investigative reporter Greg Palast and his new expose, Armed Madhouse, prompted

my return to Brooklyn, NY's Vox Pop on Sat, September 30 to headline the music at a special book party. Greg can no longer write for mainstream media since he digs uncomfortably deep for truth. He's an entertaining, mischievous, thought-provoking guy and kept the audience agog. One opinionated listener said she preferred my own approach to tellin' it like it is that night. Whatever. Greg asked to be my drummer.

---